ALBANY — The collision caused the truck to levitate in the air as a piece of equipment attached to it — a $300,000 boom lift — fell off the back, destroyed.

George Gizzi, 57, of Colonie, was living every truck driver's worst nightmare. The cargo he was towing hit the Sitterly Road Bridge along the Northway in Clifton Park, bringing traffic to a three-hour standstill and necessitating repairs costing millions of dollars. In the ensuing weeks, the shutdown of the damaged bridge would cause gridlock on the local roads it serviced.

Locally, Albany County has allocated more than $3 million to replace the Slingerlands Rail Trail Bridge on New Scotland Road after trucks repeatedly slammed into it. In Clifton Park, the state has allocated $6.5 million for an ongoing project to replace the Sitterly Road Bridge, which has been relying on a temporary bridge since it was reopened a year ago after being closed for more than three weeks. Both spots are notorious for crashes.

The most infamous, perhaps, is the Glenridge Road bridge in Glenville. There, officials have spent an estimated $50,000 in the past 18 months responding to truck-related incidents.

 

"It's just one of those things now where it's almost become like comedy," said Glenville police Chief Stephen V. Janik. "People love to get on social media and post pictures of just another day in Glenville at the bridge."

Chris Koetzle, the town's supervisor, understands Janik's discontent.

"It's frustrating because so many people think that we're not doing anything," he said. "And this has consumed a lot of our time over the years and a lot of our efforts."

The 10-foot, 11-inch high railroad-owned bridge is one of the most complicated to fix. The rail that sits on top of it belongs to a company that hasn't pursued raising it because of the potential multimillion-dollar cost, according to Koetzle.

Although the roadway belongs to the state, the government can't fund the project, he said. A number of solutions have been proposed to quell the strikes — from closing the road to truck traffic to planting overhanging trees with branches that would alert truckers to an approaching low overpass  — but nothing that'll stop the accidents for good.

This summer the state Department of Transportation is scheduled to begin constructing a westbound truck turnaround near the bridge on Glenridge Road. Next year it will install an infrared laser height detection system that will warn drivers of vehicles that are too tall to make it through the tight underpass. The system will trigger a timer and overheight messages if it detects a vehicle that is too large.

Another potential solution is educating drivers, said Hems. "It's the three E's: education, enforcement, engineering," she said.

Enforcement means fining truckers for hitting bridges, Hems added. In Glenville, truckers are usually issued vehicle citations as well as a summons for violating town code.

But the rules can be difficult to enforce, Janik said, especially for drivers that are from another state.

"If somebody is from Ohio and they're a cross country trucker, I don't really believe they're going to be coming to Town Court on their summons at 5:30 on a Tuesday afternoon," Janik said.

After finding themselves on a dangerous road, truckers might be inclined to call 911 for assistance. But the fear of being fined can make them second-guess that choice, said Sala Harris, 30, Saratoga Springs resident and truck driver.

"It's like, damn, I don't know what to do," he explained. "If I call the cops now, I might get in trouble and get the fine. If I hurry up and get off this road, then I'll be good."

Early in his career, Harris found himself assessing that scenario but was able to turn around on his own to avoid striking a bridge. He's since become a yard jockey, retiring from long-distance trips.

Developers across the globe are producing technologies to curb the accidents, using simulated waterfalls to project deterring messages and computer vision to send personalized alerts to drivers telling them to get off at the nearest exit. Hems said she'd been in discussion with a couple of companies.

One of them is E-SMART, a business that creates innovative software. One of their products automatically immobilizes trucks that come within 750 feet of a bridge through geofencing technology paired with one of their systems.

Jean-Philippe Roberge, the company's vice president of operations, said he presented his product to Hems and other members of the association but never heard back.

"We didn't get a lot of calls," he said. "If people were really serious about fixing this, we have a solution." The company's technology is being used in every state except Alaska.

"People think it's only the Northeast but there's bridges everywhere," he said.

Still, that solution could require drivers to turn around, a feat that might prove to be difficult or unsafe on some roads.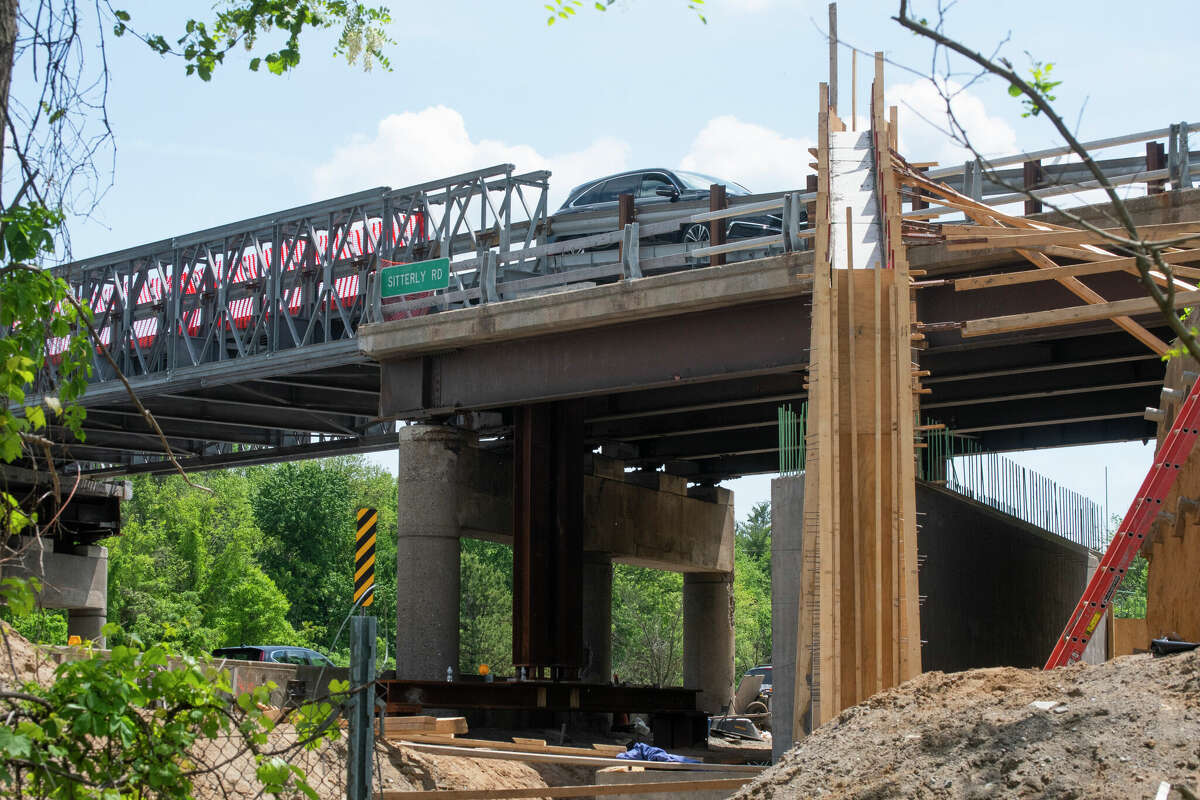 Before Gizzi smashed into the bridge and lost his job last year, he'd been driving for 25 years across the country, hauling boom lifts hundreds of times.
He said he doesn't know how it happened. He picked up the equipment in Clifton Park and then drove south on the Northway. The Sitterly Road bridge was marked and he had traveled that route many times and believed his cargo could comfortably pass under the bridge.
But Gizzi also wasn't aware that the boom's lift had raised, exceeding height restrictions and leading to the collision that caused widespread detours and travel delays as the southbound Northway lanes had to be closed when the bridge absorbed the hard strike. In the Clifton Park area, the temporary closure of the Sitterly Road bridge caused additional delays for several weeks because it is a busy crossing.
Initially, he thought he'd run something over. After 30 seconds had passed, he realized that the equipment had smashed into the structure, permanently damaging three of the steel girders.
Emergency responders and police rushed to the scene to survey the damage. Officials closed three southbound lanes.
Laborers worked overnight to ensure the bridge was moderately functioning for commuters the following morning, although lane closures remained. Later that week, six temporary beams were erected to support the structure connecting the towns of Halfmoon and Clifton Park.
The permanent bridge, set to be completed this year, will stand 16 feet 7.5 inches, which officials believe will prevent another strike.
Luckily, Gizzi's trailer didn't slam into the bridge and he was not seriously injured. Traveling at roughly 65 miles per hour, his injuries could have been severe, he said.
Gizzi noted that no other motorists were injured but he was sorry for the severe traffic delays that it caused.
"I'm sure there's people who hate me, but they didn't get hurt," he said. "And that's the biggest thing that I cared about."
Gizzi was ticketed by state troopers for striking an overpass with a commercial vehicle but still hasn't paid a fine because the matter is pending.
The crash continues to haunt Gizzi. After the incident, a new company that he now works for reached out to him. He continues to transport boom lifts, sometimes with tears in his eyes, he said.
On occasion, when he's about to go under a bridge, he'll pull over and triple-check the height of the equipment.
"It's something you'll never shake," he said. "It changes you as a person."
An earlier version of this story incorrectly stated how much money New York has spent in recent years on repairing and upgrading bridge infrastructure.